Nest Bedding Raven (fka Robin) Flippable Hybrid Mattress Detailed Review & Best Coupon
The Straight Scoop - Our Findings & Highlights
The Raven is Nest's only flippable hybrid, offering versatility and comfort at an affordable price.  Handcrafted in the USA, this award winning mattress is backed by one of the industry's strongest guarantees: 1 Full Year free trial and a Lifetime Warranty.  
| | |
| --- | --- |
| Mattress Type/Category | Hybrid, Flippable |
| Comfort Styles | Medium  Side & Firm Side |
| Height | 10" |
| Total Layers | 5 |
| Cover | 1" 4lb. Quilting Foam Cover  (top & bottom) |
| Comfort Layer Medium Side | 1" Cooling Gel Visco Support Foam |
| Comfort Layer Firm Side | 1′ High Density Base Foam |
| Support Layer | 6″ Reinforced Edge Coil Support Pocketed Coils |
| Tufting | Top tufting |
| Sleeps Cool | Yes! |
| Motion Isolation | Very Good |
| Edge Support | Very Good |
| Budget  | Twin-King $624-$949, Queen $849 |
| Feeling when lying down | Medium Side, Firm Side |
| Raven is ideal for | Medium Side, Firm Side |
| Raven is not right for | Medium Side, Firm Side |
| Sleep Trial & Warranty | 1 Year Trial & Lifetime Warranty |
| That one special thing | Flippable & Budget Friendly |
We're Here to Help!
Call a Sandman Sleep specialist to fit you for the perfect mattress at 312.888.3155
Get the Best Coupon Automatically Applied Here
Ready to Buy? Buy Now
Company Overview
In 2011, mattress veteran and big wave surfer Joe Alexander, realized that, like a bird when it wants to build a nest, sourcing materials locally was the only way to build his beds.  Hence Nest Bedding, a family owned factory direct mattress company out of Chico, CA was born.  Alexander also knew that offering consumers an opportunity to lay on a mattress was also important and he opened his first store in 2012.  Today, Nest has 9 stores across the States (incl. showroom partners Sandman Sleep in Chicago and Columbus!) offering organic, natural, and certified luxury products.
Sustainability is paramount.  To back it up, they recently introduced a lifetime renewal exchange for its luxury mattresses. The LRE is a one-time comfort guarantee that can be redeemed anytime, even after their industry leading 356 day trial.  You can renew your mattress when it's right for you. Instead of removing and replacing your mattress, you can breathe new life into your mattress with an exchange for a brand new comfort layer and save the environment from another mattress disposed of and yourself the time and money it takes to shop for a new mattress.
Nest Raven Construction & Materials
Before we dive into the Raven's medium side / firm side comfort levels, let's have a look at the reason Nest Raven is ranked as one of the most versatile and supportive mattresses on the market.
The Cover
On the medium side, the Raven begins with a plush quilted gel memory foam top that gives a touch of softness without sacrificing the support underneath. 
THERMIC® is Nest's patented temperature regulation technology that keeps the fabric cool.  It is a phase change material that cools the skin by absorbing heat when the body temperature goes up and releases heat when the temperature cools down to maintain a consistent sleeping temperature.  The special cover is designed so that it will not compress and flatten over time (if you choose the other side of the mattress!).
On the firm side, Nest chose a tighter denser 1 inch top cover.  Similar in nature to the medium side as it will not compress and flatten over time, the fabric is pulled tighter across the mattress which help add firmness to the sense memory foam layers.  The cover still contains the Thermic cooling properties to keep you cool and dry through the evening.
Comfort Layer
For comfort, Nest lays down 1″ of cooling visco gel support foam on the medium side.  The viscoe memory foam is infused with cooling gel to help pull heat from the body keeping you cool and dry throughout the evening.  Simultandously, the visco memory foam provides pressure relief as it contours and cradles your hip and shoulder.  You won't feel that heavy sinking-in-the-sand stuck feeling on the Raven!   
It's important to note that the foam comes as one solid piece as opposed to multiple layers of gel foam and memory foam because one piece provides greater pressure relief.  Two or more layers compete with each other as the surface friction makes it difficult to provide consistent pressure relief.
On the firm side, Nest chose a 1″ layer of high density base foam as its comfort layer.  The minimal amount of high density firm foam provides additional support and structure giving it that harder feel.  You will definitely be sleeping more "on top" of the firm side.
Support System
Sandwiched in-between both comfort layers, Nest inserted the Raven's hybrid's support system consisting of 6" edge reinforced steel individually pocketed coils.  Nest reinforces the edge with stronger gauge coils around the perimeter for greater edge support.  The high grade made in America steel provides superior support throughout the life of the mattress and is guaranteed for 20 years.     
Tufting
Tufting is the process where the individual parts of the mattress are either sewn or glued together to prevent slippage.  In the Raven's case, Nest chose top tufting between the cover and the temperature regulating gel, where the cover is sewn into the layer.  Tufting helps keep everything nice and together so there is no unnecessary shifting of the bed materials.  This is just another example of the little details Nest takes care of so you can rest easy.   
Does The Raven Sleep Cool?
YES!  We found the Raven to offer a cool to neutral (i.e., not hot) temperature control.  Being cool at night is all about being dry.  The Raven accomplishes the cool factor through a 3 step heat dispersion process: 
The plush polyfoam material sewn into the cover helps wick away moisture thereby reducing skin temperature.

The gel infused comfort layer pulls heat from the body (and doesn't return it!)

As the mattress is a hybrid, air is able to flow and circulate in-between the coil system
Final result – the Raven offers a temperature neutral feel and will keep you dry throughout the night allowing your body to get the rest it deserves.  If you naturally overheat at night there might be more factors in play such as geographic location, room temperature and sheet selection.   
How about Edge Support?
The Nest Raven has very good edge support for being such an affordable mattress.  Nest surrounds the outer edge of the mattress with stronger springs to make sure the mattress edge is "sag free".  This edge support increases the sleeping area so, for example, if one partner is a bed hog, the other partner can rest soundly on the edge.  No, well minimal, chance of falling off.    
2 Distinct Nest Raven Comfort Styles in One
Nest is truly made for every-body.  Their flippable Raven mattress is no exception.  Coupled with a 1 year trial and Nest should be on the top of list for everyone who prefers an affordable hybrid solution with maximum versatility.  Perfect for couples on a budget or a great option for a guest bedroom.  Let's take a closer look at the two  different sides.
Raven Medium Side
The medium side of the Raven feels like the old school mattresses we grew up on.  Not too firm, not too soft.  It's rated a medium and Sandman feels that it falls right at the 5 on the firmness scale.  Designed as a multi-sleeper, the medium side can support all sleeping positions. There is a little bit of sink on the top layer but not too much that you feel the mattress surround you.  There's just enough to provide some pressure relief to the hips and shoulders.  That being said, we feel its best for primarily back and stomach sleepers that also tend to find themselves on their sides.  Exclusive sleepers may need a little more pressure relief, especially if they are of medium to larger size.  You will definitely feel more "on" the mattress instead of "in" the mattress.  
At 10″ the Raven can comfortably support individuals up to 200 lbs.  Above that, you may require additional support from two of Nest's other popular hybrids the Nest Sparrow or Nest Owl.  This being said, average sized sleepers will find plenty of comfort and spinal aligning support from the Raven .  Upon our testing, edge support performs well on the Raven.  You can use the entire surface of the mattress without a feeling of sliding or falling off.  Lastly, motion transfer is minimal in the Raven.  You might feel your partner move a little at night but generally not enough to cause sleep disturbance.
On Sandman's Firmness Scale, we rate the Medium a 5 out of 10.

This is a MultiSleeper, designed for all sleeping styles, however larger side sleepers may need a little more pressure relief.   

The gel infused comfort layer provides a little bit of sink, but even so, the superior airflow design and advanced cooling technology on the top layer will keep you cool and dry all night long. 

Edge support is very good – minimal side sagging here!
Raven Firm Side
Flipping the mattress over to the firm side, we find that it is actually quite similar to the medium in terms of firmness.  A touch firmer, ranging in the 6 to 6.5 firmness level.  Where we see the firmness is more in the hardness of the tight top.  The medium side would be more on the "comfortable" range. 
Exclusive back and side sleepers will get the most comfort from the Firm side.  Side sleepers may also have a comfortable experience but you will lose the softer luxury feel as the medium.  You will definitely not sink as much as you sleep "on top" of this mattress.  The bed still packs in all of the same cooling features as its cousins so you will sleep cool and dry throughout the night.  If you do end up on your side, you won't have as much pressure relief.  You will, however, have the same cooling factors and of course support. 
On Sandman's Firmness Scale, we rate Firmer a 6.5 out of 10.

Stomach and back sleepers will get the most benefit out of the Firm side.  Any side sleepers should look more toward the Medium.

The firm comfort layer provides very little sink, but even so, the superior airflow design and advanced cooling technology will keep you cool and dry all night long. 

Edge support is very good – minimal side sagging here!
Motion Isolation - Is Raven Good for Couples?
All Nest Ravens have very good motion isolation.  Simply put, you will not feel your partner move at night.  Whether they are a toss and turner, an early riser or using the facilities, it's not the bed that will wake you.  However, there are differences among the styles due to their construction.  The Medium side will have the lesser amount of motion transfer because the high density gel foam by its very nature does not transfer motion.  It absorbs energy.  Any motion might come from the springs below, but the pocket coil system separates the springs further isolating any motion transfer.  The combo of gel foam and pocketed coils will have minimal transfer.  Now, the firm side, due to its rigid structure is a more responsive material.  However, to counter the additional motion possibility, Nest uses a dense gel foam to provide the extra absorption, mitigating motion transfer as much as possible.  If you need total motion isolation, then look more towards the all foam mattresses.  However, the superior design and attention to detail get the Nest hybrids as close to no motion as possible.
How does the Nest Raven arrive?
The Nest Raven comes in a box. It's crazy to think that a king size Raven with powerful springs and dense foams can be compressed, but it can.  And, with no sacrifice to quality and durability.  Some people ask if compressing the springs will hurt their integrity.  Nothing could be farther from the  truth.  Springs are actually shipped compressed all over the world (to save space).  The springs integrity is damaged if they are pulled excessively or bent out of position.  But, the way Nest compresses its mattresses, they keep their shape and strength.  The box arrives via Fedex or White Glove Delivery if you choose.  Simply unbos the mattress.  Rest it on the bed frame and remove the plastic wrapping and the bed will decompress before your eyes.  You can begin sleeping on the bed and enjoying a restful night sleep that same day.
What is Nest's Return Policy?
Nest offers a full 1 YEAR trial period, certainly one of the best in the industry.  Nest truly makes it hassle free as they do all the heavy lifting.  Here's how the systems works:
The trial begins when you RECEIVE the mattress (the fedex delivery day).

You can sleep on it for 365 nights.  As there can be a slight break-in period, Nest asks that you not initiate a return during the first 30 days.  

If it's not the mattress of your dreams, reach out to Nest via phone, email or chat (on their website), provide your name and order number and let them know if you wish to RETURN.  

Returns: Nest coordinates a donation or recycling pickup on a day of your choosing.  They handle everything and there's nothing you have to do besides letting them know the best pickup date.

Full 100% refunds (no fees!!) are issued within 5 days of the pick-up. 
Nest doesn't stop there!  They offer a lifetime warranty on every mattress.
Dimensions and Weights
| | | |
| --- | --- | --- |
| Size | Height | Weight |
| Twin | 10″ | 50 lbs |
| Twin XL | 10″ | 55 lbs |
| Full | 10″ | 65 lbs |
| Queen | 10″ | 95 lbs |
| King | 10″ | 105 lbs |
| Cal King | 10″ | 105 lbs |
Does Nest Offer Financing?
Yes, Nest offers pay-over-time financing through Affirm.
Where Can I Try a Nest Raven Mattress?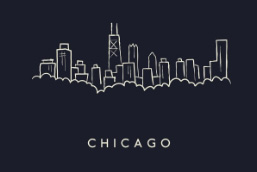 Chicago
415 W. Huron Street, Chicago, IL 60618
Columbus
44 N High Street, Columbus, OH 43215