Helix Kids - Detailed Mattress Review & Best Coupon
The Straight Scoop - Our Findings & Highlights
While it doesn't always feel like it, kids spend 40-50% of their life in bed.  And they need a mattress that will continually support their journey.  Helix crafted the durable flippable Kids mattress with this in mind.  Side 1, ages 3-7, is firmer to focus on proper spinal alignment and posture.  Side 2, for ages 8-12, is softer for greater comfort.  Safety is of top priority and Helix Kids have passed the most stringent safety testing ensuring they are free from any harmful chemicals.
| | |
| --- | --- |
| Mattress Type/Category | Kids Hybrid |
| Comfort Styles | Flippable – firm for ages 3-7 and medium for ages 8-12 |
| Height | 8" |
| Total Layers | 6 |
| Cover | Hypoallergenic soft and breathable TENCEL™ with a plant based non-toxic water repellent |
| Comfort layers | High grade polyfoam for ages 3-7 and premium memory foam for ages 8-12 |
| Support System | 6″ individually encased steel coils |
| Tufting | Top tufting |
| Sleeps Cool | Very Good |
| Safety Standards | Tested for lead and phthalate and all foams are CertiPUR-US® certified, guaranteeing they were made without harmful chemicals. |
| Edge Support | Very Good |
| Budget | Twin & Full Sizes $599-$799 |
| Feeling when lying down | Ages 3-7 Firm for spinal alignment; Ages 8-12 Medium for contouring |
| Helix Kids is ideal for | Kids up to 12 years old and 110 pounds – Bid Kid beds and Trundles |
| Helix Kids is not right for | Teenagers and above |
| Sleep Trial & Warranty | 100 Night Trial, 10 Year Warranty |
| That one special thing | Flippable to support growing kids |
Sandman is Here to Help!
Call a Sandman Sleep specialist to fit you for the perfect mattress at 312.888.3155
Get the Best Coupon Automatically Applied Here
Ready to Buy? Buy Now
Company Overview
Formed in 2015, Helix is all about personal preference and individuality. Each mattress is designed for your unique body type, sleeping position, and feel preference using Helix's proprietary sleep technology.  That mantra, combined with advanced R&D and a focus on technology to drive sleep, allowed it to win countless independently reviewed awards.
Headquartered in New York City, Helix offers free shipping directly to your doorstep in the US and Canada with a 100-night no questions asked trial.
In 2019, Helix introduced its first all natural and sustainable brand Birch. The brand carries 100% organic certified products.
Before we dive into how the Kids mattress feels, let's have a look at the reason it is ranked as one of the most comfortable, supportive and safest mattresses for growing kids.
Helix Kids Mattress Construction & Materials
The Cover
Helix chose a hypoallergenic Tencel cover for its Kids mattress.  Tencel has a soft feel designed to keep your kid cool and dry throughout the night. It's a 100% natural, eucalyptus-based performance fabric – more absorbent than cotton, softer than silk and cooler than linen. No more tossing and turning because they are hot. Tencel is also naturally anti-microbial by resisting dust mites, bacteria and allergens. AND, Tencel uses 10-20x less water during production than cotton so it is better for the environment!
Because accidents happen, Helix reinforces the cover with eco-friendly wetness protection and odor fighting shields. Every Helix Kids mattress features RUCO®-DRY BIO NPE, a plant-based durable water-repellent finish that protects the mattress from stains and water damage without impacting the fabric's breathability and soft touch.  Finally, Helix uses AEGIS® Microbe Shield, a permanent fiber treatment that combats odor-causing bacteria, but is safe for you, your kid, and the environment.
Comfort & Fire Retardant Layer
Helix designed their Kids mattress to be flippable so different age groups can take the most advantage of the mattress.  This differentiation occurs in the comfort layer.
Ages 3-7 Side: This side is firmer for additional support and to promote proper spinal alignment.  Directly beneath the cover lies a natural fire barrier, free from any chemicals or fiberglass.  Below the fire barrier Helix puts down a layer of High Grade Polyfoam.  This dense and firm foam provides ergonomic support and contour, designed to dampen motion transfer and allow further support for growing kids.
Age 8-12 Side:  On the flip side, beneath the fire barrier, Helix lays down plush gel infused memory foam.  By layering a plush gel infused pressure relieving comfort Helix has struck the perfect combination to match the big kids' sleeping style. Why a gel infused layer? Gel pulls away heat from the body. It keeps them cool throughout the night so they achieve the maximum benefits of sleep. Sandwiched inbetween the comfort layers is Helix Kids coil support system.
Coil Support System
Helix Kids's support system employs 6″ triple tempered steel individually pocketed coils sandwiched in-between the comfort layers. This high grade steel provides superior support throughout the life of the mattress.  Helix uses stronger gauge steel around the perimeter to ensure greater edge support.
Tufting
Tufting is the process where the individual parts of the mattress are either sewn or glued together to prevent slippage. In Helix's case, they chose top tufting, where the cover is sewn into the gel foam layer. Tufting helps keep everything nice and together. This is just another example of the little details Helix takes care of so your child can rest easy.
Does Helix Kids Sleep Cool?
YES! We found Helix Kids to offer a cool to neutral temperature control. Being cool at night is all about being dry. Helix accomplishes this cool factor through a 3 step process to disperse heat.
The Tencel cover wicks away moisture
The gel infused comfort layer pulls heat from the body (and doesn't return it!)
As the mattress is a hybrid, air is able to flow and circulate in-between the coil system
Final result – Helix Kids will keep your little ones cool and dry throughout the night allowing them to get the rest they deserve.
How about Edge Support?
Excellent: As mentioned in the "Support" section above, Helix Kids is one of the best in the business when it comes to edge support.  The dense foams and stronger perimeter springs go all the way to the edges allowing your little one to maximize the sleeping area with equal support.  Even if they are active movers while sleeping, they will have consistent support.
Helix Kids Comfort & Feel
Helix Kids mattress is specially designed for kids age 3-12.  But as kids age, their sleep support system needs change.  Helix took that into account when building the Kids mattress, making it durable and flippable for when the time comes for a comfort change, without sacrificing the support growing bodies need.  We'll detail out how the two sides feel below.
No matter which side, your child will start off on a soft yet breathable hypoallergenic Tencel cover.  This cooling, naturally anti-microbial fabric is further reinforced with environmentally friendly wetness repellent and odor fighting properties to keep the mattress clean and fresh for a lifetime.  The repellents to not change the plush feel of the cover.
Age 3-7 Side: This is the firmer side.  Ideally designed to support the spine and promote proper posture, the denser polyfoam selection provides additional support where the child needs it most.  Shortly after laying down, your child will feel the springs begin to support and cradle their body.  While firm, the surface is not "hard" and they will be receiving plenty of support that they need.  Your child will sleep more "on-top" of the mattress as opposed to "in" the mattress.
Age 8-12 Side: Flip the mattress when your child is big enough to want more comfort from their mattress.  The plush memory foam layer adds a touch of sink.  As their body grows, their comfort needs change as pressure points develop if the bed is too firm.  The cooling gel foam helps relieve them and keep them cool so they get the rest they need.  They will still sleep "on top" of the mattress, but will definitely have a little sink to contour where they need it most.
Regardless of the side, your kid will have 6 inch coils for enhanced support for years to come.  When they outgrow the 8-12 side, they can look towards the popular Helix Mattress for additional comfort and support.
The sweet spot for weight is up to 100 lbs.
On Sandman's Firmness Scale, we rate Helix Kids a 6.5 out of 10 on the firmer side and a 5 out of 10 on the softer side.
Designed to support growing kids all sleep positions are supported.
Even with a little bit of sink, the superior airflow design and advanced cooling technology will keep your kid cool and dry all night long.
Edge support is excellent – no side sagging here!
Extra Safety Standards
To ensure your kid won't be exposed to dangerous
chemicals, Helix Kids was tested for lead and phthalate and all foams are CertiPUR-US® certified, which guarantees they were made without harmful chemicals.
Helix consulted with medical doctors, pediatric sleep specialists, and child & family sleep consultants (and lots of kids testing), to make sure the mattress provided the right support for the age groups.
The mattress contains NO fiberglass or chemical based fire retardants.  
Finally, the surface is hypoallergenic, soft, and breathable TENCEL™.  Because accidents happen, Helix included eco-friendly and plant-based durable water-repellent and safe and effective Odor-Fighting Antimicrobial Tech, AEGIS® Microbe Shield.  AEGIS is a permanent fiber treatment on the mattress cover that combats odor-causing bacteria, but is safe for you, your kid, and the environment.
How does the Helix Kids arrive?
Every Helix Kids comes in a box. It's crazy to think that a mattress with powerful springs and dense foams can be compressed, but it can. And, without sacrificing quality and durability. Some people ask if compressing the springs
hurts their integrity. Nothing could be farther from the truth. Springs are actually shipped compressed all over the world (to save space). Pulling or bending springs damages their integrity. But, the way Helix compresses its mattresses, springs keep their shape and strength.
The box arrives via FedEx. Simply unbox the mattress. Rest it on the bed frame, remove the plastic wrapping and the bed will decompress before your eyes. Your child can begin sleeping on the it and enjoying a restful night sleep that same day.
What is Helix's Return Policy?
Helix offers a 100 night trial period, giving your child over 3 months to test out your new investment. You can either
return it for a 100% refund during the trial period. It truly is hassle free as Helix does all the heavy lifting. Here's how it works:
The trial begins when you RECEIVE the mattress (the Fedex delivery day).
Your child can sleep on it for 100 nights. As there can be a slight break-in period, Helix asks that you not initiate a return during the first 30 days.
If it's not the mattress of your child's dreams, reach out to Helix via phone, email or chat (on their website), provide your name and order number and let them know if you wish to start a RETURN. There are no questions asked!
Helix coordinates a donation or recycling pickup on a day of your choosing. They handle everything and there's nothing you have to do besides letting them know the best pickup date.
Full 100% refunds (no fees!!) are issued within 5 days of the pick-up.
Helix doesn't stop there.  They offer a 10 year warranty on all kids mattresses.
Dimensions and Weights
Helix Kids mattress are 8″ tall and comes in Twin and Full
How Do I Order a Helix Kids? Does Helix Offer Financing?
Yes, Helix offers financing through Affirm.  Up to 12 months at 0%.  Click here to see if you qualify.
Where Can I Try a Helix Mattress?
Helix is sold exclusively online. However, if you are in the Chicago or Columbus, OH area, please visit our Sandman Sleep Showrooms to test out the Helix Kids for yourself (we'll even help get it ordered for you!):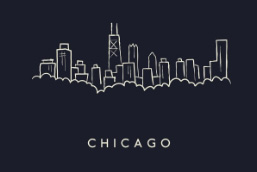 Chicago
415 W. Huron Street, Chicago, IL 60618
Columbus
44 N High Street, Columbus, OH 43215