Dreamfoam Latex Mattress by Brooklyn Bedding - Detailed Review & Best Coupon
The Straight Scoop - Our Findings & Highlights
Simple and straightforward, the Dreamfoam Latex is a great alternative for the budget conscious shopper in the market for a natural mattress.  Made in the USA, it's available in either soft, medium or firm, comes with a 120 night money back trial and is backed by a 10 year warranty.
| | |
| --- | --- |
| Mattress Type/Category | Hybrid |
| Comfort Styles | Soft, Medium & Firm |
| Height | 10" |
| Total Layers | 3 |
| Cover | 1″ Quilted plush top |
| Comfort layers | 3″ Talalay Latex |
| Support System | 6" individually wrapped Ascension Coils |
| Tufting | Top tufting |
| Sleeps Cool | Good |
| Good for Couples? / Motion Transfer | Ok |
| Edge Support | Good |
| Budget | Twin to King $450 – $1,025, Queen $850 |
| Feeling when lying down | Soft, Medium, Firm |
| Latex is ideal for | Soft, Medium, Firm |
| Latex is not right for | Soft, Medium, Firm |
| Sleep Trial & Warranty | 120 Night Trial, 10 Year Warranty |
| That one special thing | Great Budget! |
We're Here to Help!
Call a Sandman Sleep specialist to fit you for the perfect mattress at 312.888.3155
Get the Best Coupon Automatically Applied Here
Ready to Buy? Buy Now
Company Overview
We love the All American story of Brooklyn Bedding. A true entrepreneur with grit, vision and a lot of help along the
 way, John Merwin formed what is now Brooklyn Bedding in 1995. Not in Brooklyn, NY as one might think, but in Phoenix, Arizona (he named the company after his daughter, Brooklyn). Originally a mattress liquidation business, it soon turned to building a mattress and listing it on Amazon, just to see what might happen. Well, it took off and John launched Brooklynbedding.com. A pioneer in many respects, John was one of the original visionaries of a bed-in-a-box mattress packaging and delivery system. John wanted to ensure his beds were known for high quality at a price everyone could afford. Therefore, he took the entire manufacturing process in-house. To this day, all Brooklyn Bedding mattresses are made start-to-finish in their Phoenix factory; many on the assembly team have been making mattresses by hand for decades. They have earned a reputation not only for making one of the leading mattresses in the industry, but for quick delivery, superior customer support and one of the best trial and warranties in the industry.
As a testament to Brooklyn's commitment to quality, Brooklyn Bedding now manufactures many of the top private label mattress brands on the market. Brooklyn lists 6 models on their website, but they also manufacture brands such as Plank (extra firm) and Titan (for plus sized sleepers)Now 25 years old, Brooklyn is showing no signs of slowing down – in the last two years, Brooklyn Bedding has doubled its production capacity. They have recently completed the buildout of a new 600,000-square-foot factory in Phoenix where even more mattresses can be handcrafted, on demand, and shipped direct to customers' doors.
Dreamfoam Latex Construction & Materials
The Cover
Dreamfoam chose a premium quilted cover with super soft reflex foam for its Latex mattresses. This material resists impressions and remains breathable throughout the night so you sleep cool and dry.
Comfort Layer
For comfort, Dreamfoam chose 3" of 100% plush natural Talalay latex made from sap tapped from the tropical rubber tree.  Dreamfoam took the additional refining step in the latex process to create the more plush Talalay.  In the commercial production space, Dunlop latex is most commonly used. While many companies can and do use natural Dunlop latex, it is less refined and doesn't have the same plush feel as Talalay latex – the gold standard in latex production. Dreamfoam's Talalay natural latex provides unmatched pressure relief, regardless of sleeping position.  Because of its responsive nature, you won't feel that stuck-in-the-sand of dense memory foam.  It fills back in the impressions quickly as  you move about.  Finally, Dreamfoam perforates the latex to provide airflow channels to help keep you cool.
Coil System
The Latex's support system employs up to 961 individually encased 6" steel Ascension coils directly underneath the comfort layer. Dreamfoam individually wraps each coil to mitigate any motion transfer within the mattress. This combination allows for plenty of reactivity and motion isolation, minimizing sleep disturbance. Additionally, Dreamfoam reinforces the edge with higher caliber perimeter coils to create greater edge support along the sides, head and foot of the bed. The result? A solid support system that will last for years to come.
Tufting
Tufting is the process where the individual parts of the mattress are either sewn or glued together to prevent slippage. In the Latex's case, they chose top tufting, where the cover is sewn into the gel foam layer. Tufting helps keep everything nice and together. This is just another example of the little details Dreamfaom takes care of so you can rest easy.
Does the Dreamfoam Latex Sleep Cool?
YES! We found Dreamfoam Latex to offer a neutral to cool temperature control. Being cool at night is all about being dry. The Latex accomplishes the cool factor through a 3 step process:
The cover wicks away moisture
Latex is naturally temperature regulating as it absorbs moisture and then releases it when the air is too dry.  Additionally, Dreamfoam perforates its latex to provide additional airflow.
As the mattress is a hybrid, air flows and circulates in-between the coil system
Final result – Dreamfoam Latex will keep you cool and dry throughout the night allowing your body to get the rest it deserves.
How about Edge Support?
Okay
Dreamfoam reinforces the Latex support system with higher caliber
Ascension springs around the perimeter of the mattress. The result improves the edge support and ensures a somewhat "sag free" experience. This edge support increases the sleeping area so, for example, if one partner is a bed hog, the other partner can rest soundly on the edge.  The plush talalay latex can sag slightly when sitting directly on the edge which can give the appearance that edge support may lack, however, you will be able to sleep all the way to the edge safely and fully supported.
One Added Benefit: The ultra responsive nature of latex actually helps you get out of bed in the morning!
This being said, if you are looking for greater edge support in a natural mattress, check out the Helix Birch.
Endurance Testing – Will the Latex Stand the Test of Time?
The Dreamfoam Latex is one of the best quality mattresses in this budget range. Dreamfoam spends a tremendous amount of time stress testing the materials to get the most out of the springs and foam. The result? A bed bed that can support up to 950 lbs.
Dreamfoam Latex Comfort & Feel
Dreamfoam Latex – Available in Soft, Medium & Firm
The Dreamfoam Latex is built for quality and comfort at a budget friendly price.  For versatility, it comes in soft, medium and firm and the one you choose will depend upon your sleeping style.
If you are new the world of latex, it definitely feels different from traditional gel memory foam or even traditional memory foam hybrids, such as the Dreamfoam Hybrid.  As latex is made from the sap of a rubber tree, it is more responsive than traditional memory foam that sinks and absorbs energy.  Latex quickly bounces back to its original shape – that's why people often say latex has a "bounce".  As you move about, the latex will quickly fill in the spaces you leave behind, there will be no stuck-in-the-sand sinking. To make the "bounce" nature more comfortable, Dreamfoam adds a 1″ quilted cover.  This really helps make the mattress more comfortable.  The Dreamfoam Latex is made to support all sleepers, but we'll help guide you depending upon your sleeping style:
Pro Tip – firm does not always equal greater support!  There are plenty of soft mattresses that are extremely supportive.  The key is to choose the mattress that will provide the proper amount of support in the base (coils in this case) and the comfort layer that will be most comfortable depending upon your sleep style.
Choose Soft (5 out of 10) if you are exclusively a side sleeper.  The soft nature of the latex will conform to your shoulders and hips more effectively and relieve the pressure that might cause shoulder or hip soreness.  The springs will work to provide support and properly align your spine.
Choose Medium (6 out of 10) if you are a combination sleeper or like to move around and switch positions while you sleep.  The medium is Dreamfoam's multisleeper, meaning it supports all sleeping styles, side, back, stomach & any combination therein.
Choose Firm (7.5 out of 10) if you are exclusively a stomach or back sleeper OR if you know you like a firm/hard mattress.  There will not be much give in this mattress as the firm, dense latex sits right on top of the coil base.
For the Dreamfoam Latex, the sweet spot for weight is up to 200 lbs (especially for side sleepers). Above that weight, you'll start to lose the benefit of the pressure relief from the latex as your body rests more on the springs. At that size, you might consider the Helix Birch or Birch Luxe, as the comfort layer provides additional comfort relief and 8″ zoned springs offer greater support.  This being said, at this budget range, it's hard to find a more comfortable and supportive latex hybrid mattress.
On Sandman's Firmness Scale, we rate Dreamfoam Latex a soft a 5 out of 10, the medium a 6 out of 10 and the firm a 7.5 out of 10.
Even though you sink a little into the comfort layer, the airflow design and advanced cooling technology will keep you cool and dry all night long.
Edge support is okay for the soft and good for the medium and firm.
Motion Isolation
The Dreamfoam Latex offers decent motion isolation. Latex has more bounce than gel foams, so the chances are greater that you will feel your partner move about.  However, the 1″ gel cushion top goes a long way towards mitigating motion transfer.  The gel foam, by its very nature. does not transfer motion. It absorbs energy. Any motion might come from the springs below, but the pocket coil system separates the springs further isolating any motion transfer.  If you need total motion isolation, then look more towards the all foam mattresses. However, the design and attention to detail get Dreamfoam Latex close to no motion.
How does the Dreamfoam Latex Mattress Arrive?
All Dreamfoam Latex by Brooklyn Bedding comes in a box. It's crazy to think that a king size model with powerful springs and dense foams can be compressed, but it can. And, with no sacrifice to quality and durability. Some people ask if compressing the springs will hurt their integrity. Nothing could be farther from the truth. Springs are actually shipped compressed all over the world (to save space). The springs integrity is damaged if pulled excessively or bent out of position. But, the way Dreamfoam compresses its mattresses, they keep their shape and strength. The box arrives via Fedex from their Phoenix, AZ factory. Simply unbox the mattress. Rest it on the bed frame, remove the plastic wrapping and the bed will decompress before your eyes. You can begin sleeping on the bed and enjoying a restful night sleep that same day.
What's the Return Policy and Warranty?
Dreamfoam offers a 120 night trial period. You can either return it for a 100% refund,
or you can adjust the comfort level with a free mattress topper during the trial period. You may also exchange it for a different mattress and pay/refund any price difference. Here's how the system works:
The trial begins when you RECEIVE the mattress (the Fedex delivery day).
You can sleep on it for 120 nights. As there can be a slight break-in period, Brooklyn asks that you not initiate a return during the first 30 days.
If it's not the mattress of your dreams, reach out Brooklyn at 

[email protected]

, via phone, email or chat (on their website), provide your name and order number and let them know if you wish to RETURN or EXCHANGE. Either way, there are no questions asked!
Returns: In most cases, Brooklyn will request that you have the mattress donated. Many of the charity foundations that are available offer a local pickup service. In the event that you are having trouble getting this coordinated, please let Brooklyn know and they will offer additional assistance. Once donated, you will receive a full refund. If you are having trouble, reach out to Brooklyn and they will be happy to assist.
Full 100% refunds (no fees!!) are issued within 3-4 business days of the pick-up.
Exchanges: For an exchange, Brooklyn will send the new mattress to your home BEFORE the old one is removed so you'll never be without a bed to sleep on.
Dreamfoam doesn't stop there! After the trial period ends, Dreamfoam offers a 10 year manufacturer warranty.
Dimensions & Weights
| | | | |
| --- | --- | --- | --- |
| Sizes | Dimensions | Height | Weight |
| Twin | 39″ x 75″ | 10″ | 55 lbs. |
| Twin XL | 39″ x 80″ | 10″ | 70 lbs. |
| Full | 54″ x 75″ | 10″ | 75 lbs. |
| Queen | 60″ x 80″ | 10″ | 90 lbs. |
| King | 76″ x 80″ | 10″ | 100 lbs. |
| California King | 72″ x 84″ | 10″ | 100 lbs. |
Does Brooklyn Offer Financing?
Yes, Dreamfoam offers financing through Affirm. Enjoy as low as 0% APR if you pay in full within up to 18 months when you choose Affirm.  Click here to see if you qualify.
Where Can I Try the Dreamfoam Latex Near Me?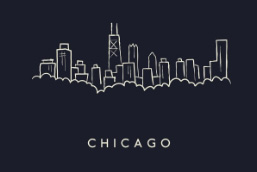 Chicago
415 W. Huron Street, Chicago, IL 60618
Columbus
44 N High Street, Columbus, OH 43215